18F-FDG (Fluorodeoxyglucose) is a glucose analogue which accumulates in tissue in proportion to the amount of glucose utilization. Increased consumption of glucose is characteristic of most cancers and is mostly related to overexpression of the GLUT glucose transporters and increased hexokinase activity. Once inside the cell, FDG is phosphorylated by the enzyme hexokinase and trapped.
18F-FDG PET/CT has become one of the cornerstones of patient management in oncology.
Indications for 18F-FDG PET/CT include, but are not limited to, the following:
Differentiation between benign and malignant lesions;
Screening for an unknown primary tumor when metastatic disease is discovered as the first manifestation of cancer or when the patien presents with a para-neoplastic syndrome;
Initial staging patients with known malignancies;
Distinguishing residual active tumor from post-treatment fibrosis or necrosis;
Detecting tumor recurrence (restaging), especially in the ;presence of elevated tumor markers;
Selection of a metabolically active region within a tumor most likely to yield diagnostic information for biopsy;
Guiding radiation therapy planning.
[18F]DPA-714 is currently under investigation as a potential radiopharmaceutical for imaging TSPO in living systems using positron emision tomography (PET).
The 18 kDa translocator protein (TSPO) is an ideal target for neuroinflammation imaging.
Due to the short half-life (20 minutes) of 11C (carbon-11), it has to be produced on location.
11C tracers are mainly used in preclinical and clinical PET-studies for the development of new medicines and treatments. Together with Radboudumc's Department of Nuclear Medicine, Radboud Translational Medicine will set up a research line aimed at the development of new 11C tracers.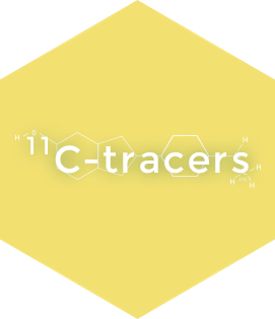 18F-NaF (Radio-Flu) is a radioactive diagnostic agent for positron emission tomography (PET) indicated for imaging of bone to define areas of altered osteogenic activity.
Because of its binding to bone mineral, 18F (sodium fluoride) is taken up 3-10 times more in bone regions affected by malignant processes with resulting osteoblastic activity or osteolytic defects than in unaffected adjacent bone. Non-cancerous traumatic, erosive or inflammatory lesions of bone structure are also associated with increased osteogenesis. Sodium fluoride (18F) is therefore a marker of the reactive bone processes of cancerous or traumatic conditions. It also detects nonmalignant regions of physiologically or pathologically increased bone metabolism.